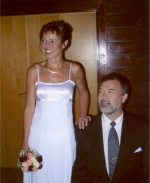 To Astrid and Magne, the highlight of the year 2004 was the celebration of our silver anniversary. We were thrilled that we were able to gather as many as 80 guests to share our joy that day. 25 years in marriage is definitely worth a big party.
This summer it became quite noticeable that our children are growing big: We were only able to spend a small part of the summer holidays together all five of us. As usual, we drove by car from west Norway (where we live) over the mountains to the east (Oslo area) and back via the south coast.
This year we made a stop for a few days in the mountains to hike together with Astrid's sister, Torunn, and Arne Geir. It was a wonderful experience for all of us!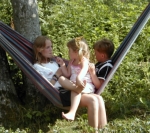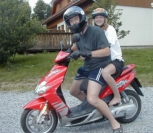 We then went on to visit Sigrun, Phillip and their children, Eirik and Maria. Magne and Ingrid really enjoyed Sigrun's new motorcycle!
Out in the garden we played a lot, and between sessions the children found rest in the shadow under the threes.
Astrid still teaches. Her favourite subject is religion. Apart from work, Astrid is always busy with something inside our outside the house, or doing voluntary work for the local community and our congregation. In summer, gardening is among her favourites.
Magne is half way through his PhD. His new company, Dynaplan, develops new technology for business modelling. Magne too is active in the local church. The most fun part is clearly the "multi-media" group that he runs together with two friends as part of the program that is offered to confirmants in our church.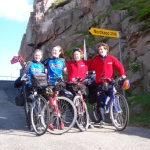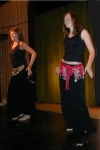 Solbjørg finished her year at Øytun folkehøgskule in Alta (far North in Norway) this spring. She biked all the way home (2500 kilometres, 1600 miles) together with three friends. The also used the trip to raise money for a children's home in Moldova. You can read more about the trip here.
Solbjørg has many interests, and she is really afraid that there is something that she will not get the time to try! One thing she did try, however, is belly dancing. In her parents' anniversary she put on a great show together with aunt Torunn.
In the fall Solbjørg went to Bangkok, Thailand, to work among children who live on the street. The trip was an important experience for her, but unfortunately the traffic noise stressed her ears so much that she decided to return to Norway before she had planned. She now studies Christianity, bachelor level.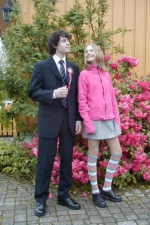 Magnar is in his second year at TAF, and enjoys school/work very much. His preferred hobby is computers. He is becoming an expert in web design and programming, mastering PHP, HTML and JavaScript at increasingly advanced levels.
As the picture to the left indicates, Magnar and Ingrid are really good friends. Here we see them on our National Holiday, 17. May.
Ingrid is confirmant this year. As part of her confirmation program she has joined the hiking group - where Magnar is one of the leaders. (By the way, Astrid is one of the leaders in the confirmant's soccer group!)
Ingrid has one million friends! She likes to visit them after school or in the weekends, and she likes to have them visit her. In her spare time, and while watching TV, Ingrid works on the embroideries for here "bunad", the national costume that she will wear for the first time at her confirmation in May 2005.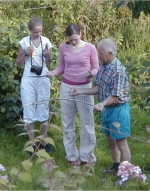 Magne's parents and brothers live quite close to where we live, and Astrid's parents live not far away either. It is nice to have family around. Sverre, Magne's father, played mouth harmonica in our anniversary (we just had to come back to that!). This summer he also tried to teach the children the old skill of detecting underground water using a branch from a tree.
We feel grateful to have so many good friends and a family that takes good care of each other! We send this Christmas Greeting to everyone in our network, both far away and near by.
We wish you all the best for the Christmas holidays and for the Year 2005 which is just around the corner.
- Magne, Astrid, Solbjørg Makalani, Magnar and Ingrid.